Data shows that today's buying decisions are mostly collaborative, consensus-driven activities that involve groups of people with different roles in the organization, and the size of those buying groups is growing. In most cases, the major contribution of the C-Suite executive is to accept the judgement of his or her buying group before signing a contract. Yet, corporate marketing strategies persist in focusing content marketing and lead generation activities on the C-Suite. – Excerpt from 9 Experts Rethinking Demand Generation.
In the newly published book, 9 Experts Rethinking Demand Generation, a collection of eleven essays were assembled based upon conversations with top thought leaders in the business-to-business industry. David Fortino of NetLine Corporation shared his perspective on the current state of demand generation as it relates to effective lead gen campaign targeting strategies in the essay, "Marketing Beyond the C-Suite". Fortino put great emphasis on the pivot organizations and marketers are failing to make, which is to truly understand today's buying committee.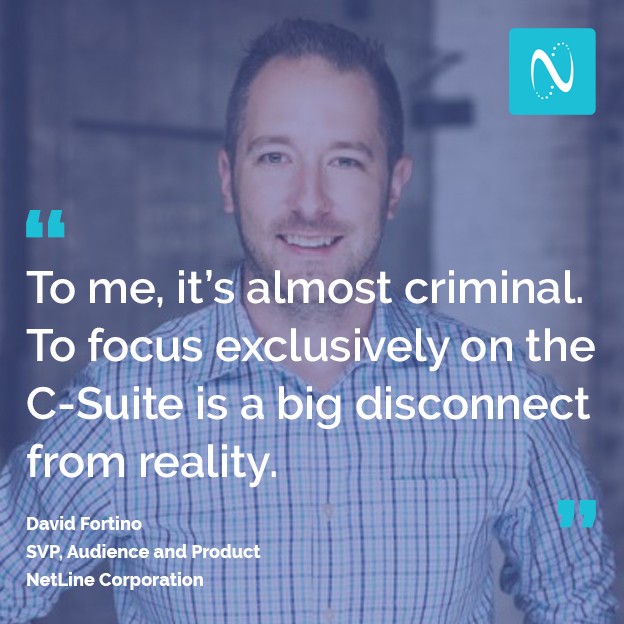 The basis of David's perspective has been built by the 2017 research series conducted by NetLine that examines the content consumption behavior of millions of professionals downloading long-form content.
The research analyzed content campaigns that B2B marketers are using to attract and capture their target prospects to draw comparisons between the actual professionals downloading the 'marketing content' and their intended target audience. According to Fortino, marketers do not understand who the 'decision maker' really is, "More often than not, your target 'decision maker' is realistically an aggregate of a number of influencers who help foster the final recommendation within the organization."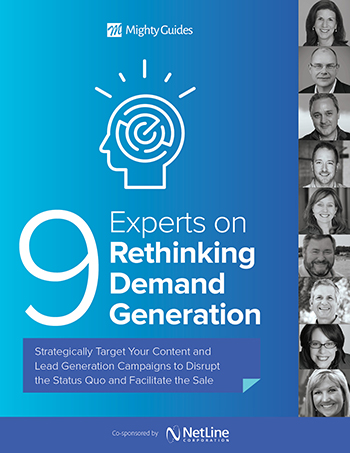 In addition to the research, Fortino offered a real-world example in his essay of a marketer doing it right; learn from their tactical strategy to comprehensive funnel development using content programs.

To read this essay and the complete book of essays from nine demand generation thought leaders, download your free copy today.

The book is co-sponsored by NetLine Corporation and Mighty Guides; experts contributors to the eBook include: Tim Riesterer (Corporate Visions), Brent Adamson (CEB/Gartner), David Fortino (NetLine), Samantha Stone (The Marketing Advisory Network), Pam Boiros (Bridge Marketing Advisors), Babette Ten Haken (Sales Aerobics for Engineers), Heather Vaughan (InfoBlox), and David Rogelberg (Mighty Guides), each focusing on strategic tactics to disrupt the status quo and increase conversion.

The post Marketing Beyond the C-Suite, Lead Generation Strategies. appeared first on B2B Marketing Blog.

This post was originally published on this site