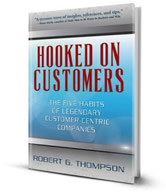 Driving customer advocacy is hard work. If you're looking for some magic metric or a quick and easy fix to guaranteed success, Bob Thompson's latest book, Hooked on Customers, is not for you. In his concise and reader-friendly book, Bob outlines five tangible habits that, if applied effectively, can transform customer service from mere "lip service" to genuine "Customer Centricity."
Bob sets the stage by providing a brief history of Customer Relationship Management (CRM) and Customer Experience Management (CEM). While CRM and CEM have traditionally focused efforts on efficiency and cost, Bob highlights companies that chose instead to take the customer-centric route. One prime example he refers to is Southwest Airlines. In an industry infamous for all of its red ink and bankruptcies, Southwest managed to grow AND be profitable. How? "The secret," according to Southwest's founder Herb Kelleher, "is not the strategy but rather execution."
Southwest's success is just one of many cases that Bob presents. To remain consistent, I will follow his sequence and extract points from each section accordingly. Even so, I will barely scratch the surface. Hooked on Customers is a definite must read.
1. Listen
Bob opens this chapter with one of my favorite quotes by Steven Covey: "Seek first to understand, then to be understood." Case in point: Walmart. In reaction to some feedback that stores were cluttered, Walmart changed its merchandising strategy without taking into consideration what customers valued most: selection AND price. Bob writes: "Walmart's mistake was taking customer feedback at face value without understanding what matters most to its customers."
He asks:
Are you delighted when a hotel has clean rooms?
With a rental car company if the vehicle runs?
With a bank if the ATM works?
Bob's point is that while these basic expectations aren't extravagant, if they're not provided at all, you'll be dissatisfied and likely take your business elsewhere.
2. Think
With formal training in analytics and fifteen years at IBM, it's no surprise that Bob embraces "think" as his favorite habit. He references a keen observation noted by the founder of IBM, Thomas J. Watson, Sr.: "The trouble with every one of us is that we don't think enough." As a matter of fact, this section is packed with quotes that, dare I say, make you think. I particularly like a quote by Dan Ariely, author of Predictably Irrational: "We aren't cool calculators of self-interest who sometimes go crazy; we're crazies who are, under special circumstances, sometimes rational."
In this chapter, Bob discusses analytics and how it's possible to torture data to tell lies. There's some fascinating information involving Nordstrom as well as a very cool discussion about speech analytics. He also points out seemingly illogical findings that actually make quite a lot of sense when further investigated. For example: "EMC found that it was misguided to focus on time to answer a call. Analytics revealed that the total time to solve a problem had a bigger impact on customer loyalty."
3. Empower
Should you put employees or customers first? Great question and Bob provides the answer.
This chapter also talks about executive proclamations about delighting customers at the same time as they are incented to reduce phone time – get off the phone as quickly as possible – at the point of engagement.
My favorite quote from this chapter is: "Giving employees a sense of control in how they do their jobs … can lead to higher levels of job satisfaction, which can boost productivity and increase retention."
4. Create
Jeff Bezos (founder of Amazon) is quoted in the book saying: "inventing and pioneering require a willingness to be misunderstood for long periods of time." Bezos, who was faulted for allowing negative customer reviews, makes the point that contrary to what most people may assume, Amazon does not make money selling goods. Amazon makes money helping customers make good purchasing decisions.
Apple, Intuit, Weber, and JC Penney are some other companies Bob highlights in this discussion.
5. Delight
This chapter takes on a form of debate between Bob and the Corporate Executive Board (CEB) writers of the 2010 Harvard Business Review article, "Stop Trying to Delight Your Customers."
Bob's stance is that meeting customer needs alone will not allow you to create genuine customer loyalty. To his point, he references two successful companies—one that seeks to delight the customer (Zappos) and another that seeks to profit—whether the customer is delighted or not (Ryanair). Zappos' culture of customer service permeates even the most basic customer interactions (such as a ten hour call about a customer moving to Las Vegas). In comparison, Ryanair continues to survive, perhaps even thrive, in Europe simply by their cheap fares.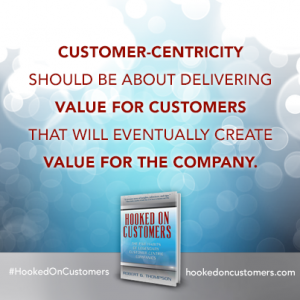 I like Bob's balanced approach about delighting the customer, and overall, I think he wins the "debate" with CEB. To quote Richard Branson, "The key is to set realistic customer expectations, and then not to just meet them, but exceed them—preferably in unexpected and helpful ways."
In the final chapter, Bob discusses the importance of leadership and describes how Dan Hesse fixed Sprint after a nightmarish PR debacle. He also unveils four Customer-Centric Maturity Stages and challenges readers to identify where they are and work toward the "Inspired by Customers" state.
Bob Thompson's book Hooked on Customers is well-balanced, well-substantiated and well-written. I strongly recommend it.
By Dan McDade
Originally Posted on Point Clear.