Ask a Sales VP "did you make your quota last quarter?" and you get a "yes/no" answer. Ask a Marketing VP, "did you make your numbers last quarter?" and you get a blank look. Why is that?
Most CEOs don't hold their Marketers and PR firm as accountable as Sales because, presumably and mistakenly, they've been told that you can't really measure Marketing output. I disagree. You can and should hold Marketing's feet to the fire just as much as any other function. Here's how.

First off, I must tell you my bias is that Marketing is here to drive demand that yields profitable sales. Full stop. Therefore, I am not a fan of big ad budgets or of lavish trade show spending just because the competition is there. Rather, I believe in surgically targeted awareness campaigns that condition the target audience for a laser-beam focused lead generation campaign separating out the real buyers.
If you're a CEO of a channel business selling to the SMB, here's what I recommend you do. Take the table below and tell your PR firm and VP of Marketing to complete the "before" column and have them show you the source of every number. Then check back in one quarter and have them do the "after" column (again ask them to prove it). You'll see very clearly if your Marketing spend is having any impact on the two things you should care about: 1) do your prospective customers know about your solution? And, 2) are enough of these prospects turning into Sales?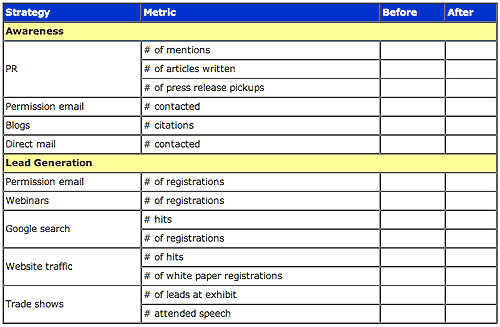 The table will help you see if Marketing matters. And I have prioritized strategies in the table according to the biggest bang for the buck. I would also recommend three focus areas:
1. Targeted PR: Set specific goals for the number of citations in specific pubs that you know your audience reads. Then Then monitor progress on a monthly basis and make your PR optimize the impact.
2. Lead Generation: I recommend search engine optimization (SEO). Nowadays, your prospects are likely looking for your solution. Make it easier for them to find you. Use permission or "opt-in" email campaigns to alert prospects that are already open to buying a certain solution. Combine these with monthly or bi-weekly webinars. Again, prospects who are thinking about your solution space will be attracted to content rich webinars. Stand out from the noise.
3. Thought leadership: You're either seen as "in the conversation" or you're not. Speaking engagements are excellent ways to be seen as a leader. Pursue speaking spots rather than just exhibiting at trade shows. Give away whitepapers on your website without forcing registrations. You'll be seen as a source of valuable information. And, lastly, leverage all partners by having them link to your site. More links equals more relevance. Make it part of all alliance contracts.
Each of these three strategies is measurable using the table above. Take this to your PR firm and VP of Marketing and see what they think. If they're threatened or dismiss it, that's OK. It's not unlike a VP of Sales during quota setting season. That's the edge you want from your whole executive team.